Besuchen Sie
unsere deutsche Webseite
. Vous trouvez des
informations en francais ici
.
The Zacharias Frankel College, the Conservative/Masorti Rabbinical College in Potsdam,
ordains its first student
on June 18th. Pleae find more information in the
Press release
.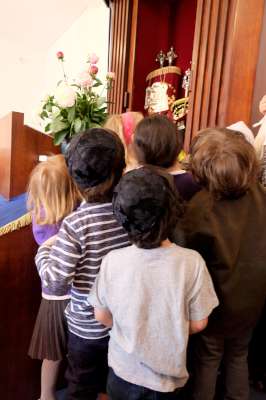 Visiting Oranienburger Straße Synagogue
in preparation for Shavuot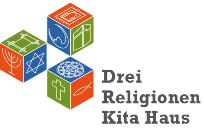 The website for our interreligious Kindergarten project is now online and can be found here.
District Mayor Naumann and Israeli Delegation from Or-Yehuda visit Masorti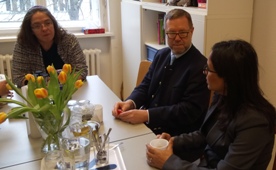 Masorti was thrilled to welcome district mayor Naumann and a delegation of the Israeli twin city on February 9th 2017. The delegation visited Berlin in the framework of the 50th anniversary of the Charlottenburg-Wilmersdorf/Or-Yehuda partnership. Mayor Shoshat, here in conversation with Rabbi Gesa Ederberg and district mayor Reinard Naumann, was impressed by the work of the Masorti Kindergartens and interested in other Masorti projects.
Israel: a homeland for ALL Jews? // call for action
Please read this open letter of the Masorti Leadership to Israeli Prime Minister Netanyahu and President Rivlin about
implementing the Kotel agreement
in English
or
in Hebrew
.
On the website of
the Masorti Foundation in the US
you can sign the letter.
Voluntary Services with Masorti
Masorti Germany is happy to
welcome volunteers
from Belgium, Northern Ireland, Finland and Ukraine for a European Voluntary Service resp. Freiwilliges Soziales Jahr in 2016/2017!
If you are interested in volunteering with Masorti, please send us your CV and motivation letter per
Email
.
Donate to Masorti Germany by shopping online with clicks4charity
!
Easy, almost en passant and free of charge for you: shop online through the
clicks4charity
website and by doing so, donate to Masorti Germany! The online shop you choose initiates a donation to Masorti Germany for each online purchase.
Here
you can shop online directly and
here
you find more information on how this works.
For suggestions or comments please contact the
webmaster
.
->Top